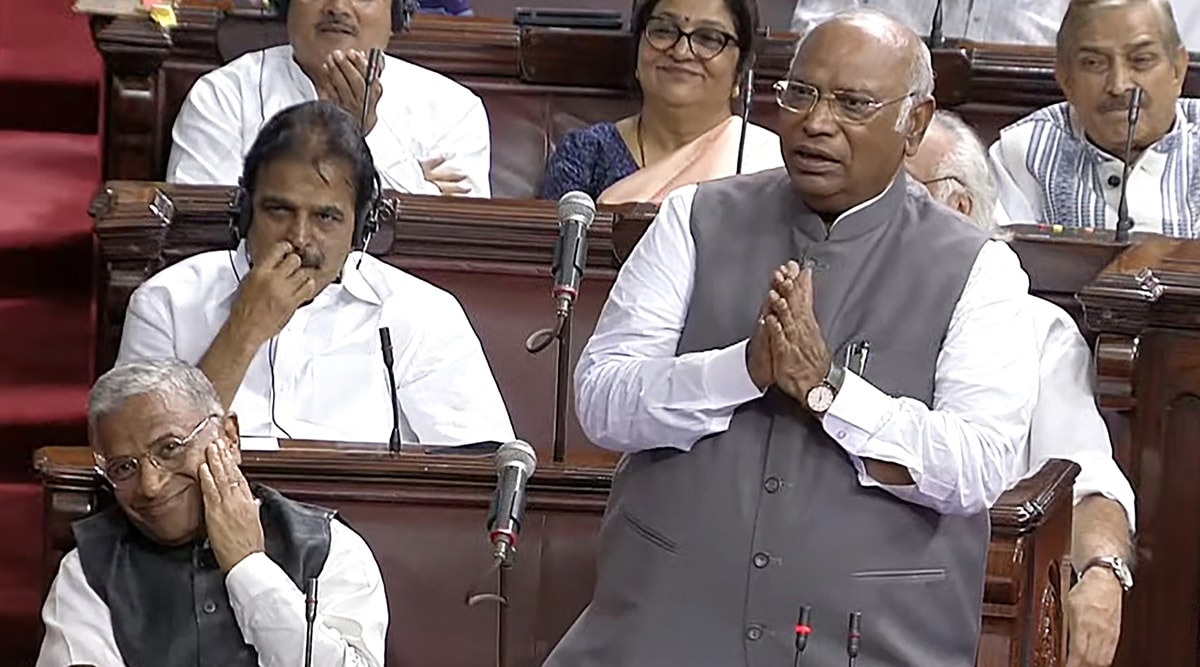 While recalling the "inclusive" way of functioning of the government, the Leader of Opposition in the Rajya Sabha, Mallikarjun Kharge, on Monday said Jawaharlal Nehru included five people who were against him in his Cabinet, including Syama Prasad Mukherjee, while Prime Minister Narendra Modi did. he does not want to see "the shadow of the Opposition".
In an attempt to point out the difference between the working styles of the two leaders, Kharge said that while Nehru would listen patiently to Opposition members, Modi rarely comes to Parliament, and when he does, he "makes a scene" about it.

He noted that when Nehru had included members of the Opposition in his first Cabinet, "You don't even want to see our shadows)".
Speaking during a debate on "Journey of 75 Years of Parliament from Samvidhan Sabha – Achievements, Experiences, Memories and Lessons", Kharge also urged the government to bring in a Women's Reservation Bill, noting that although the world has changed since the first Lok Sabha, when 5% parliamentarians were women, even today, Rajya Sabha and Lok Sabha have only 10% and 14% of women members, respectively.
Kharge said there have been efforts to reserve seats for women MPs over the years and, speaking to Chairman Jagdeep Dhankhar, said if the Chairman addresses the issue, the government will respond. "We all wish that the Bill for the protection of women should be introduced and that women should be given what they have [their] it is owed," he said.
Later in the discussion, JD(U) MP Ram Nath Thakur, too, raised the demand. He said now that the session is moving to the new Parliament building from Tuesday, "why is the government not implementing 33 percent of women".
Kharge took Modi to task for not visiting war-torn Manipur, addressing unemployment in the country, and his absence from Parliament.
With activities expected to move to the new Parliament building from Tuesday, Kharge questioned the government on what will change by moving to the new space.
He said: "If you want to change then the situation will change now. What happens with a name change like this? We should hire young people, how about making everyone unemployed? Expand your heart a little and see what happens when people die? If you can't do anything, get a seat. What else will happen if I go from here to there? (If you have to change, then change the situation. What's wrong with changing names? If you have to give, give jobs to the youth. What's wrong with making everyone unemployed? Be brave, instead of killing people. If you can't do anything, then stop…. What will happen from here to there?)."
The Congress leader expressed his concern over the speed with which Bills are being passed in Parliament and called the process "faster than a bullet train".
He said Congress leaders fought for Freedom, contributed to the creation of the Constitution, and worked to keep democracy alive. Taking the Prime Minister to task for questioning the work done under the successive Congress-led governments, he said, "Every now and again we are asked, '70 years ago what did you do?'. This is what I did in seventy years. This is my strength. We have saved democracy. [We are constantly asked what we did in 70 years. This is what we did — we strengthened it [democracy]. We kept democracy safe)."
Most Read
1
Ridhi Dogra says 'it's bad luck to play' Shah Rukh Khan's mother in Jawan: 'He told me many times…'
2
With Jawan inches closer to another milestone, Shah Rukh Khan became the only Indian star to have two Rs 1,000 grossers in a year.
Congress leader Piyush Goyal, who initiated the debate, urged all members to work to make India "corruption-free". He recalled his own experience as a guest in Parliament in 2010, when the then Finance Minister Pranab Mukherjee appreciated his maiden speech and said the Opposition played an important role in democracy.
Trinamool Congress member Mohd Nadimul Haque urged the government to protect the federation and not punish states ruled by parties that oppose it politically, referring to TMC-ruled West Bengal.
AIADMK member M Thambidurai also said the federation must be protected. "This is not the council of elders. I am not old. This is the Council of States."